We're so excited to welcome Gabriella to the Houndstooth team — she's jumped right in and is already positively impacting what we do everyday. An avid traveler, lover of sloth GIFs, and creative thinker, she fits right in. Welcome, Gabriella!
Q. Tell us a little bit about who you are.
A. I am originally from Cincinnati, OH, a graduate of Miami University (with a degree in English Literature), an avid traveler, and recent Chicago transplant.
Q. Any hidden talents? 
A. I took a photo on my iPhone and won Condé Nast Traveler's "Dream Trip". I took a $25,000 all-expenses paid vacation through Southeast Asia.
Q. What's your favorite blog? 
A. I'd be very out of the loop if it wasn't for the hilariously summarized news that I read in my inbox every morning via The Daily Skimm.
Q. What or who inspires you?
A. Since Day 1, my older brother and sister.
Q. What drew you to Houndstooth PR?
A. After feeling the energy and passion from everyone that I met during my initial interview, I knew that working here would be a great opportunity for me to grow professionally.
Q. If you had one song that played any time you entered a room, what would it be?
A. This Must Be the Place (Naive Melody) by The Talking Heads would be nice.
Q. What's your favorite GIF?
A. Any sloth one will do. But, if I had to choose….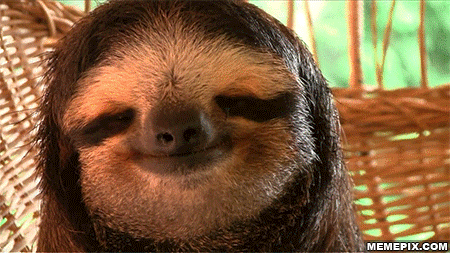 Q. What do you love about your job/working in a creative field? 
A. The freedom to be creative in a workspace makes me feel like it isn't work at all. I also love working in an energetic and innovative place.

Q. Who is your spirit animal?
A. An elephant. I traveled to Thailand to confirm this.

Q. What are 3 of your favorite things?
A. Northern Michigan, dogs, live music

Q. Anything else we should know?
A. I spent some time teaching English in South America. ¡Viva Chile!